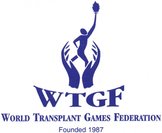 Since its creation in 1978, the WTGF works to increase public awareness of the need for organs donation and to promote the success of organ transplant through sport across the world, highlighting the need to increase organ donation. It also strives to encourage transplant patients to practice physical and sporting activity to restore quality of life, and to support medical research into the benefits of sporting activity following transplant, by taking part in the summer and Winter World Games held every two years in one of the 69 member countries, each time on a different continent.
Bringing together up to 1,500 participants (the 14th edition took place in Nancy, France, in 2003), they visibly demonstrate the benefits of transplant through the sporting exploits of transplant participants in full health, having resumed a normal life and perfectly reintegrated in their family and social life.
The WTGF is the only worldwide organisation that brings together the most representative national associations in each of the 70 member countries. Olivier Coustere, Chairman of the WGTF states: "We play a unique role, making the federation a legitimate and key spokesperson in debates concerning the challenge of organ donation and transplant in the world".
The WTGF has a decisive influence in debates and decisions in the field of transplantation and implements the necessary means to respond to any declarations made, or measures adopted on an international scale.
The WTGF would also like to be thought of as a vector of solidarity for advanced countries reaching out to those requiring support, or who have much to learn in terms of organ donation, transplant activity or in requesting funds in their country for example. With its programme "Help our member countries to help themselves", it provides operational communication tools for those members that have neither the means nor the infrastructures in their country.
WTGF - World Transplant Games Federation
Highcroft, Romsey Road, Winchester, SO22 5DH- England. Tel: (44) 1962 840767
Web:
www.wtgf.org
. E-mail: This e-mail address is being protected from spambots. You need JavaScript enabled to view it