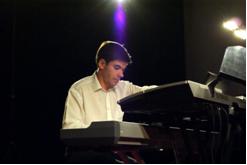 Jean-Luc Guyard begins the Organ at the age of ten years. Then he enters the academy of the VIth District of Paris. He continues studying at the National Academy of Paris Region where he gets a second prize of Interpretation, and he ends at the International Academy of Paris with the First Prize of Interpretation and with the Excellence Prize of Improvisation. He follows in parallel Analysis, Harmony and Counterpoint lessons. He is at present Director of the Academy of Bondoufle (French Department of Essonne) and Professor of Musical Training at the Academies of Bondoufle and Savigny sur Orge (French Department of Essonne).

Organist of the St Cloud's Parish, he also dedicates himself to the composition with a preference for the Sacred Directory : Liturgical and Monastic songs, "Of profundis" and "Antiphona" for Soprano soloist and String Orchestra, " Iste mundus furibundus" for Choir, Soprano soloist, Big Organ and Gong, "Da Pacem" for A Cappella Choir and recently "Pange Lingua" for six mixed voices. At the same time, he is used to compose in a more descriptive style, which has brought him to be one of the finalists at the " Music in Court " Film Music Contest of the City of Sceaux (French department of Essonne).
Jean-Luc Guyard débute l'orgue dès l'age de dix ans. Puis il entre au conservatoire du VIème arrondissement de Paris. Il poursuit ses études au Conservatoire National de région de Paris où il obtient un second prix d'Interprétation, et il termine au Conservatoire International de Paris avec le Premier Prix à l'unanimité d'Interprétation ainsi que le Prix d'Excellence d'Improvisation. Il suit en parallèle les cours d'analyse, d'harmonie et de contrepoint. Il est actuellement Directeur du conservatoire de Bondoufle (Communauté d'agglomération d'Evry-Centre Essonne), professeur de Formation Musicale aux conservatoires de Bondoufle et de Savigny sur Orge.
Organiste au sein de la paroisse de St Cloud, il se consacre également à la composition avec une prédilection pour le répertoire sacré : Chants liturgiques et monastiques, "De profundis" et "Antiphona" pour Soprano soliste et orchestre à cordes, "Iste mundus furibundus" pour Choeur, Soprano soliste, Grand-Orgue et Gong, « Da Pacem » pour Chœur à cappella et dernièrement « Pange Lingua » pour six voix mixtes. ¨Parallèlement il compose dans un style plus descriptif, ce qui l'a amené à être finaliste au concours de musique de film « Musique en court » de la ville de Sceaux.