Nicholas Cup : When Kids have fun !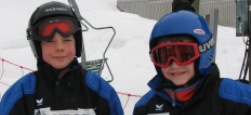 You're a Kid aged 17 and under and you're a ski beginner: The Nicholas Cup is for you!
Program
Many activities are proposed :
ski lessons & slalom practice

Various outdoor activities : cross country skiing,  ski touring, snowshoeing, sled dog, traditional luge "paret", ski joering etc.


other activities : hip hop Dancing, swimming pool and Brazilian balloon designing

The Nicholas Cup slalom takes place on Friday, 22 at 10.30 am.
To download the tentative programme of Nicholas Cup, click here...