Une épreuve très attendue...
22.01.2010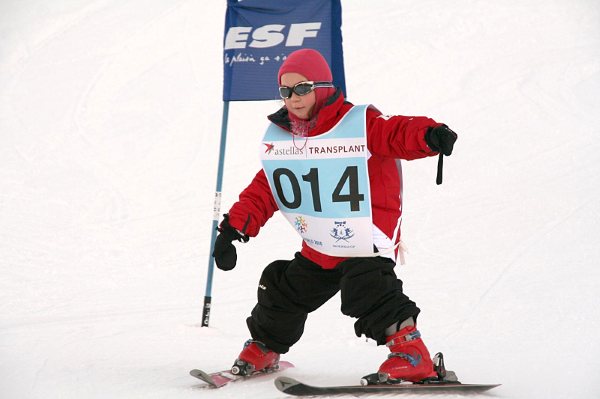 La Nicholas Cup a eu lieu ce matin. Les enfants ont pu mettre en pratique l'enseignement reçu tout au long de la semaine. La coupe a été remportée par Cassandra ...Ce choix a été guidé par un ensemble de critère : progression, effort, continuité dans l'apprentissage... Cette jeune transplantée de rein de 9 ans est en somme le coup de cœur du jury. La Nicholas Cup ne récompense donc pas le gagnant de la course mais bien si la volonté d'un enfant de se dépasser. Tous les participants, Krzysztof (meilleur temps ), Kevin, Davi, Benedicta, Florine, Anais, Jason, Cassandra, Clément, Eddy, Maéva (arrivée deuxième de la course), Marine, Joska, Erwan, Catherine, Eoin, et Zozan sont repartis médaille au coup et très fier d'avoir participé à cette épreuve riche en significations. Cet événement qui se déroule en parallèle des jeux mondiaux d'hiver, a été pensé en mémoire Nicholas, un jeune garçon tué lors d'un braquage en Italie dont la famille a accepté de donner ses organes qui ont sauvés de nombreux enfants. Remettre cette coupe à Cassandra prend alors tout son sens. Elle symbolise l'importance du don d'organes et la reconnaissance des transplantés envers les donneurs. Tous les transplantés, petits et grands, attachent une particulière attention à donner un sens à leur vie et être à la hauteur de ce cadeau. Cette semaine, le pari a été amplement tenu. Bravo à tous !
The Nicolas Cup
Friday morning, the Nicholas Cup took place. Children got finally the chance to put in practice what they learned during the week and skied down the slalom. And the winner was... Cassandra. The Jury's choice covers many criteria: progress, efforts, perseverance... The Jury felt in love with this 9 years old kidney transplant. The Nicholas Cup doesn't reward the winner of the race but the will to succeed in his/her personal challenge. All the participants, Krzysztof (best time ), Kevin, Davi, Benedicta, Florine, Anais, Jason, Cassandra, Clément, Eddy, Maéva, Marine (arrived second to the race), Joska, Erwan, Catherine, Eoin, et Zozan left with a medals around the neck and so pride to have been part of this competition rich in meanings. This event which took place along with the winter world transplant games had been imagined in memory of Nicholas, a young boy killed during a holdup in Italy. Nicholas family accepted to donate his organs and saved a lot of children. The Nicholas Cup symbolizes the importance of organ donation and the gratitude of the transplanted for their givers. All the transplanted, young and old, attach a particular importance to give to his/her life a meaning and be up to this precious gift. This week, the aim has been achieved. Bravo to everybody!
---
Discrets et indispensables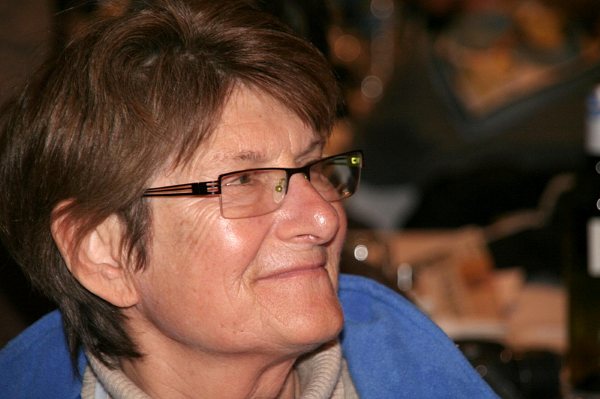 Sans eux, pas de jeux mondiaux d'hiver des transplantés ! Pas de repas, personne pour s'occuper des enfants, pas de navettes pour rejoindre Bourg Saint Maurice et les environs, pas de pistes de ski. Vous pouvez les repérer facilement : Polaires bleues et sourires contagieux. A tous les repas, Nelly, Claudia, Céline, les époux Veilex, le mythique Jojo Charrière et tous les autres volontaires, ont servi les plats sous le chapiteau monté pour l'occasion. Roger, chaque matin, a fait le tour des chalets pour livrer l'indispensable petit-déjeuner. Luc et Guy ont assuré le transport des participants un peu partout dans la région. Sans eux, nous aurions été bien démunis. D'autres volontaires ont préparé consciencieusement les pistes avant les épreuves et les ont sécurisées avec l'aide de l'école de ski de Sainte Foy Tarentaise. Pas de Slalom Géant sans dameurs. Pas de classement et de médaille, sans les volontaires qui ont pris les temps de chaque concurrent à chaque épreuve. Claude Barres, Oleysa, Monique Coustère, Emmanuelle, Mary, pour n'en citer que quelques un, ont en revanche supervisé le quotidien des garnements de la Nicholas Cup : Chiens de traineau, construction d'igloo, prise des médicaments... Mission loin d'être facile !
Pour leur aide précieuse qui a permis à tout le monde de passer un excellent séjour, nous les remercions chaleureusement. Bravo pour votre générosité !
Discreet and indispensable:
Without them, nothing would be possible. No food distribution, nobody to take care of the children, no transports, no skiing pistes! You can easily identify them: Blue sweatshirts and smiling faces. Every lunch and every dinner, Nelly, Claudia, Céline, the Veilex couple, the mythical Jojo Charrière and all the other volunteers, served dishes to all the participants. Roger brought us early in the morning the very necessary breakfast. Luc and Guy drove people everywhere. Without them, we would have been lost. Others volunteers prepared the pistes carefully before the races and secured them with the help of the Skiing club of Sainte Foy Tarentaise. No giant slalom downhill without grooming. Even the person who recorded the times of all participants was a volunteer. Claude Barres, Oleysa, Monique Coustère, Emmanuelle, Mary, to named but a few, supervised the activities of the tremendous Nicholas Cup children: Sled dog trips, building an igloo, Ski with horses, responsible for their medication... Running everywhere, smiling all the time... Because they helped us so much and made the journey so fantastic we want to thank them for all the time they gave to us. Bravo for your generosity!
---
Who are the best supporters?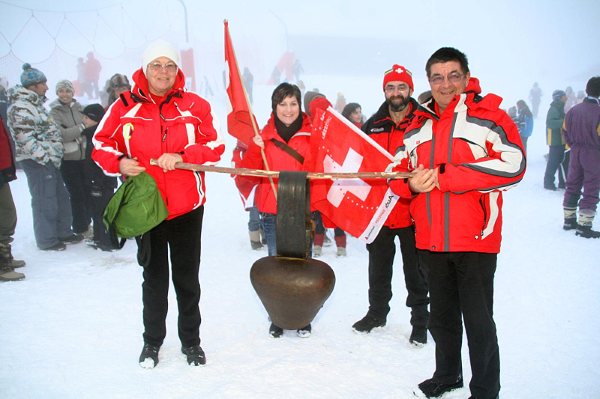 Throughout the week, transplanted people participated in many races. Every competitor arrived with his or her team support. But some were more active than others. The American and Austrian supporters were particularly noticeable but they were small in number. The French tried to outdo them but despite being numerous they were actually quieter, as one volunteer confided in me. In the end it was probably the Swiss that were the loudest. The huge cow bell and Liz Schick the Swiss team manager encouraged strongly and loudly every Swiss competitor. During the medal ceremonies we recorded them and we therefore have the proof of their superiority as supporters. You can hear them here:
Download Embed Embed this video on your site
---
Solidarity at the Winter World transplant Games
20.01.2010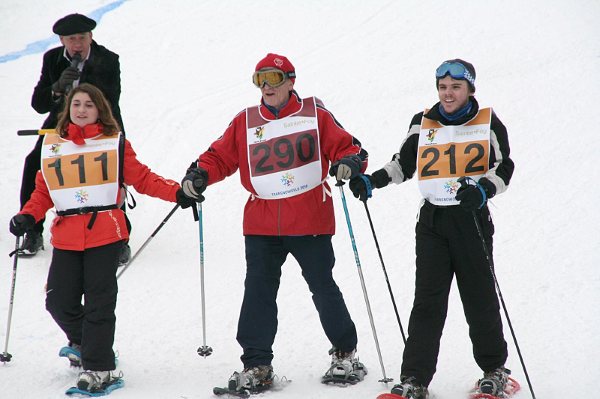 Yesterday, the Biathlon and Snowshoe races took place. These two events are probably the most representative of the spirit of the WWTG. The people who took part did so not just to win but achieve something for themselves. The person who received most applause in the biathlon actually came last, Stefen Whelan, a liver transplant. He just did not give up. It was his personal challenge and he succeeded it. The same spirit was found at the snowshoe race. Helping each other was the order of the day. Claude Barres, 70 years old and a liver transplant, crossed the finish line helped by two other participants, Fanny Granjean and Eric Gandon. Solidarity and sharing moments are the "raison d'être" of the Transplant Games, internationally and nationally. That probably is why Lisa Cuthbertson, from Sydney, has participated at almost all the last 12 events organized around the world. 25 years ago, she was affected by leukemia and needed a bone marrow transplant. Her sister gave her what she needed. For Lisa Cuthbertson this second chance is the opportunity to celebrate life and enjoy it more than anybody. From Singapore to Manchester, she has shared her passion for life and sport with other transplanted people and promoted bone marrow donation. You can't miss her: yellow hat, Australian flag around the neck, smiling all the time. A lot of people think she's a little bit crazy... I'm sure she's much more than that, she's the personification of celebrating life in the best possible way.
Solidarité aux Jeux Mondiaux d'Hiver des Transplantés
Mercredi 21 janvier 2010 se sont déroulées les épreuves de Biathlon et raquettes. La solidarité fut particulièrement représentative de l'esprit des Jeux Mondiaux d'hiver des Transplantés. Tous les participants étaient visiblement là pour participer et s'amuser. La victoire était bien peu de chose comparée à la satisfaction d'aller au bout de l'épreuve. C'est d'ailleurs Stefen Whelan, transplanté d'un rein il y a 9 ans et arrivé dernier au biathlon, qui a été le plus applaudi. Il a tenu bon et est allé au bout de son défi personnel. On a retrouvé le même esprit à l'épreuve de raquettes. L'entraide entre les participants en a ému plus d'un. Claude Barres, 70 ans et transplanté du foie, a pu ainsi franchir la line d'arrivée grâce à l'appui que lui on apporté Fanny Granjean et Eric Gandon. La solidarité et le partage de moments forts sont la raison d'être des Jeux des Transplantés, mondiaux et nationaux. C'est probablement la raison qui a poussé Lisa Cuthbertson de Sydney à participer à 12 compétitions dans le monde entier. Il y a 25 ans, atteinte d'une leucémie, elle a eu besoin d'une greffe de moelle osseuse. C'est sa sœur qui lui vint en aide. Pour Lisa Cuthbertson, cette seconde chance est l'opportunité de célébrer la vie et d'en profiter pleinement. De Singapour à Manchester, elle a partagé sa passion pour la vie et le sport avec d'autres transplantés. Elle souhaite sensibiliser le monde à l'importance du don de moelle osseuse. Vous ne pouvez pas la manquer : bonnet jaune, drapeau australien autour du coup, le sourire aux lèvres. Certains pensent qu'elle est excentrique... Elle est bien plus ; elle est la joie de vivre et de la reconnaissance réunies.
Lisa Cuthbertson from Australia:
Download Embed Embed this video on your site
Nathalie Giner Castany nous explique pourquoi elle a décidé de participer à l'épreuve de raquettes:
Download Embed Embed this video on your site
---
Sainte Foy Tarentaise est une petite station et ne semble pas à première vue pouvoir répondre aux besoins d'un événement comme les Jeux Mondiaux d'Hiver des Transplantés. Pourtant tout ce déroule admirablement. Nous avons rencontré le maire, Raymond Bimet, pour percer le secret de ce village.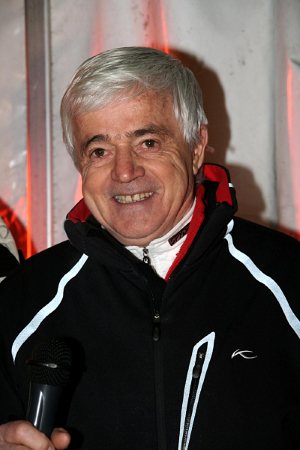 Comment avez-vous découvert les jeux mondiaux d'hiver des transplantés ?
C'est Marianne Brechu, présidente de l'association Etoiles de Neige qui organise des séjours sportifs pour les enfants atteints de mucoviscidose, qui a organisé ma rencontre avec Olivier Coustère, président de Trans-Forme et de la Fédération Mondiale des transplantés. Nous avons tout d'abord collaboré sur les jeux nationaux des sportifs transplantés et dialysés en janvier 2009. Cet événement nous a permis de mieux comprendre notre capacité à répondre aux besoins d'une telle organisation et aux installations à mettre en place afin que tout ce déroule dans les meilleures conditions. Passé ce test, nous avons pu envisager d'organiser les jeux mondiaux car nous connaissions nos limites et avons pu les dépasser.
Pourquoi avez-vous décidé d'accueillir les jeux mondiaux d'hiver des transplantés ?
Sainte-Foy Tarentaise est une petite station caractérisée par la culture agricole. Son architecture a été pensée en accord avec notre sensibilité au patrimoine. Sa dimension réduite favorise une dimension humaine bien plus développée que dans les grandes stations. Accueillir les jeux mondiaux nous permet de mettre en avant notre sensibilité au don d'organes. J'avoue également que la médiatisation générée par cet événement n'est pas désagréable. Paradoxalement, nous sommes plus connu en Angleterre que dans la région. Mais nous savons également que toutes les touristes qui séjournent chez nous, nous sont par la suite acquis.
Nous souhaiterions continuer à collaborer avec Trans-Forme, peut-être dans le cadre de colloque de médecins autours de thèmes attenant à la transplantation. Dans le même esprit, Tignes suite au Jeux paralympiques ont organisé de nombreux événements autours de l'handicape physique ayant déjà les structures pour les accueillir.
Le maire nous a laissé une déclaration que vous pouvez écouter ci-dessous :
Download Embed Embed this video on your site
---
Premières impressions en haut des pistes.
19.01.2010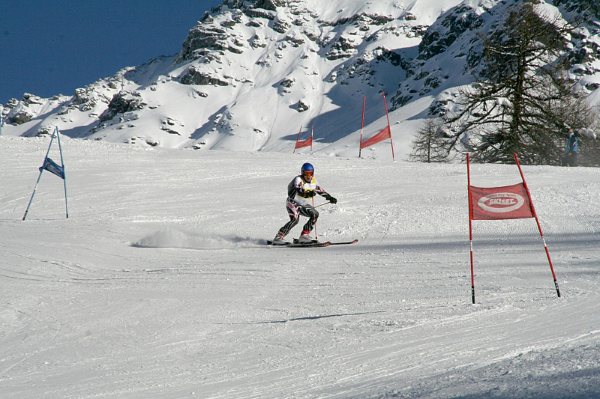 Au cours des trois derniers jours, les concurrents des jeux mondiaux d'hiver des transplantés 2010 ont affrontés de nombreuses épreuves : Ski de fond (5km et 1h), Slalom (Géant et Spécial), Snowboard. Ils nous ont laissé leurs sensations, difficultés et joies :
First impressions at the bottom of the pistes.
During the last three days, competitors participated in many different races: Cross Country (5km and 1 hour), Slalom (Giant and regular), and Snowboard. Here , they gives us their impressions, their difficulties and their joys:
Grzegorz Blecharczyk from Poland before the Giant Slalom on Monday:
Download Embed Embed this video on your site
Peter Stoetzer from Germany after the 1st round of Giant Slalom on Monday:
Download Embed Embed this video on your site
Christophe Meunier from France after the 1st round of Giant Slalom:
Download Embed Embed this video on your site
Soren Hermansen from Denmark after winning the silver medal at the 1 hour cross country
Download Embed Embed this video on your site
Lacey Woods from USA, heart and kidney transplants, gold medal in snowboard:
Download Embed Embed this video on your site
Japan has no competitors but Michikita Ohkubo promises to come back and to bring a larger team:
Download Embed Embed this video on your site
---
La rencontre des générations
18.01.2010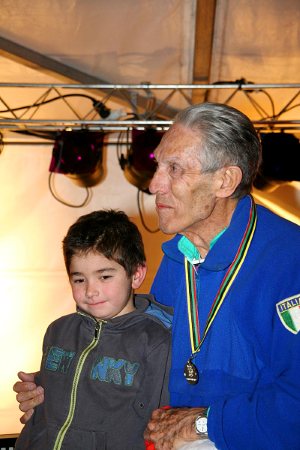 Grand, agile et souriant. Carlo Maffed ne ressemble en rien à un homme de 79 ans. Le sport lui va comme un gant. Dans la matinée, il a participé à l'épreuve de ski de fond 5km et à enchainer dans l'après-midi le slalom géant comme si de rien n'était. Après sa transplantation du foie, il y a 22 ans, il a très vite repris le sport. La vitalité de Carlo Maffed est contagieuse et un sourire se dessine naturellement sur nos visages à son contact.
Pendant la cérémonie de remise des médailles, il a rencontré le benjamin des Jeux Mondiaux, Kevin Malet. Agé de 8 ans, il a subi une greffe de rein il y a à peine 6 mois. Ce courageux garçon a pourtant fait la découverte du ski dans la matinée avec tous les enfants de la Nicholas Cup. Passée la première étape consistant à se tenir debout, ils se sont tous essayés au chasse-neige. En équilibre précaire, ils prennent de la vitesse. Question : mais où sont les freins ? Après quelques minutes de tentatives infructueuses, ils finissent par prendre le dessus et se sentent plus à l'aise. Dans l'après-midi, Kevin a poursuivit sa découverte des sports d'hiver en s'essayant aux raquettes. Lorsque sa jambe s'est enfoncée dans la poudreuse entrainant une petite chute il n'a pas abandonné. Pour reprendre ses mots : « Faut que j'y arrive ! »
Intergenerational meeting
Tall, agile and smiling. Carlo Maffed doesn't look his 79 years. Sport seems to suit him well. In the morning, he participated in the 5km cross country and in the afternoon he went down the giant slalom as if it were nothing. Liver transplanted 22 years ago he took up again sport only a few years after his operation. Carlo Maffed is the kind of person who spreads joy and vitality around him.
During the medal ceremony in the evening, he was introduced to the youngest participant, Kevin Malet, 8 years old, kidney transplanted 6 month ago. This courageous little boy was introduced for the first time that morning to skiing with all the Nicholas Cup participating children. He got through the first steps, keeping up right. Then they all tried the snowplow. Oh dear, how do we stop this object without brakes? After a few minutes of panic, the children finally controlled their skis and enjoyed the activity in the snow. In the afternoon, Kevin tried snowshoeing and when he fell in the powder snow, he didn't give up but said "I must get the hang of it!"
---
Norway has not say it last word
18.01.2010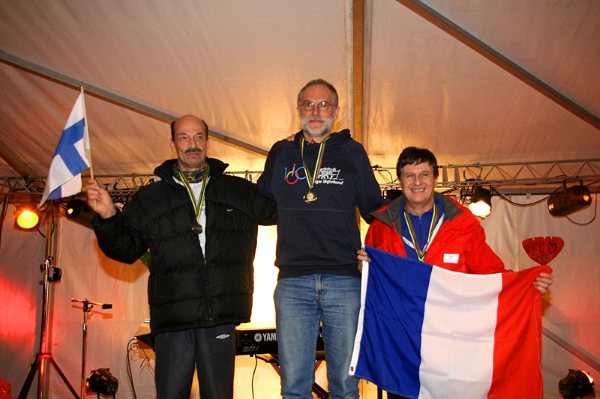 Olav Fikse comes from Norway and was kidney transplanted 28 years ago. Impassive, he finished first at the 5km cross country and didn't react. An efficient person, he changed his clothes, took a drink and a piece of cake. His attitude was not as we expected. But then we discovered why. Olav Firse was worried for his compatriot Jan Gunnar Skjelbeck who had fallen before the start and had been taken to hospital. His shoulder was dislocated and therefore would compromise the Norwegian participation in the 3x3 kilometer cross-country team race planned for Thursday. But Olav Firse never loses his ambition and he now wants to convince the organizers of Winter World Transplant Games to replace the 3x3km race with a 2x3km. Good Luck to him!
Olav Fikse from Norway after 5km cross country declaration:
Download Embed Embed this video on your site
---
Flambeau, vin chaud et bonne humeur !
17.01.2010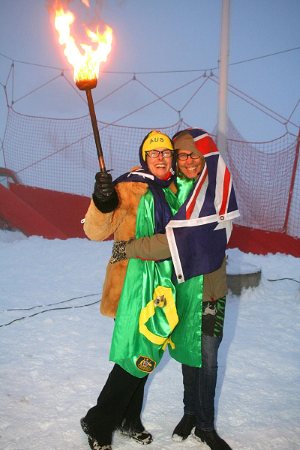 Cette après-midi, les Jeux Mondiaux d'Hiver des Transplantés ont officiellement commencé. Dix-neuf volontaires de l'école de ski française, munis de panneau indiquant les différents pays, ont rassemblé derrière eux les participants. Le temps de quelques flashs et la marche aux flambeaux commençait. Menée par l'Australie et fermée par la France, elle a traversé Sainte Foy Tarentaise dans la brume tombée en fin de journée. Le manque de visibilité n'a rien ôté à la bonne humeur qui régnait au sein de l'assemblée. Chaque pays avait joué le jeu : les drapeaux (les néozélandaises ont fait une toge des leurs), les chapeaux verts des irlandais, la cloche suisse ont coloré cette cérémonie d'ouverture. Après une vingtaine de minutes, tous étaient de retour devant la tente pour écouter le discours de la municipalité. La fête s'est poursuivie par la reprise par les enfants de Sainte Foy de la chanson de Soane, « Besoins de donneurs ». Avant de se quitter, les participants ont partagé un bon verre de vin chaud en admirant le lâché de ballons brésiliens qui a illuminé le ciel. Un beau moment d'échange !
Torch lit Mulled wine and happiness!
Sunday afternoon17th January 2010, the Winter World Transplant Games were officially launched. Nineteen volunteers from the French school of ski accompanied the nineteen participating countries in a torch lit procession. Led by Australia and with France, the host nation, bringing up the rear, the participants walked through Sainte Foy Tarentaise in a dense fog which had descended on the village during the day. The poor visibility did not impact the good mood and great ambience of the event. Every country played its part: Flags (New Zealand even used their flag as a toga!), Irish green hats, a huge Swiss bell all colored the opening ceremony. After almost 20 minutes, everybody was back in front of the tent to listen to the mayor's speech. Then the children of Sainte-Foy sang « Besoins de donneurs ». (We need more donors) Before leaving, sharing a good glass of mulled wine, all the participants admired the Chinese lanterns which lit up the sky. A beautiful moment to share! In this registration you can find declaration of: Colin White, Ireland team manager, Michikata Okubo from Japan, Zigur Wallstroem from Luxembourg and Catherine Paton from New Zealand:

Download Embed Embed this video on your site

---
Accueil de l'équipe de France :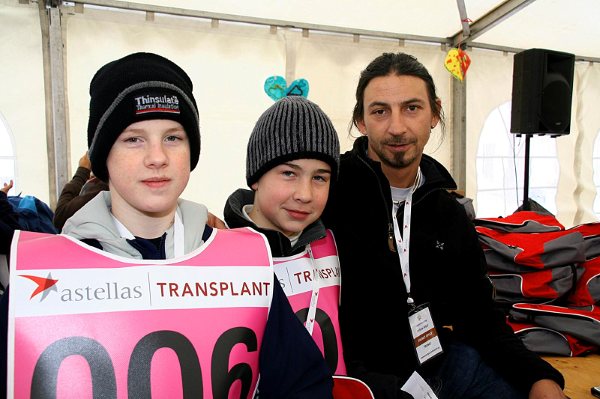 11h10, sous le chapiteau, les bénévoles organisent l'accueil des participants français. Vérification des dossiers médicaux, distribution des sacs à dos et polaires aux couleurs des jeux mondiaux. Dans un désordre organisé, chacun récupère les clés de son chalet et son ski-passe, passepartout indispensable pour participer aux épreuves. Olivier Coustère, maître de cérémonie, encourage d'ailleurs les français à participer au ski de fond 3x3km par équipe. La médaille est assurée, affirme-t-il. Les enfants s'habillent de leur dossard. La couleur rose de certains ne semble pas faire l'unanimité auprès des garçons mais ils repartent tout de même la mine réjouie en rêvant à la médaille qu'ils pourront remporter dès le lendemain... Bonne chance à tous et que les meilleurs gagnent !
French team welcome:
11.10 a.m., in the tent, volunteers are organizing the French participant's welcome desk. Medical file verification, distribution of backpacks and polar sweaters of the winter world transplant games ... All in organized chaos, everyone recovers their chalet keys and ski passes. Olivier Coustère, master of ceremonies, encourages the French team to subscribe to the cross country event. Medals are assured! Children put on their number bibs. Boys are a little bit disappointed by the pink color, but they leave the tent smiling. They probably dream about the medals they hope to win tomorrow. Good luck everybody!
---
60 ans de greffes...
17.01.2010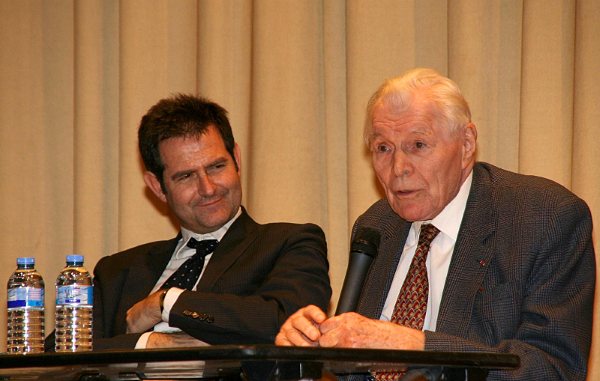 Pionnier européen de la greffe du cœur, le Professeur Cabrol revient sur l'histoire de cette opération pas comme les autres. Tout commence à Stanford, lorsque Norman Shumway et son assistant, tente une expérience sur un chien : lui greffer le cœur d'un autre. Miracle ! Il survit. Mais pas pour longtemps, car son corps rejette ce cœur qu'il ne reconnait. Apparaissent alors toutes les difficultés liées à cette délicate intervention. Entre la première greffe du cœur réalisée par le sud africain Chris Barnard en 1967 et l'apparition d'un médicament antirejet efficace, il faudra attendre près de 12 ans. Réussir la greffe d'un organe, maitriser le rejet de ce corps étranger, améliorer la condition de vie des patients postopératoires ont été autant de combats affronter par les médecins et les patients.
L'éminent chirurgien cardiaque revient également sur le dilemme affronté par la famille du potentiel donneur d'organe. Les résistances des familles à autoriser le prélèvement est compréhensible, surtout lorsque le défunt n'a pas clairement exprimé sa position sur le sujet. Une lourde décision dans un si triste moment. Être donneur d'organe, c'est sauver des vies. Alors n'hésitez pas, communiquez à vos familles et proches votre position sur le sujet.
Le professeur Cabrol a conclu la conférence par un appel aux dons que vous pouvez écouter ci-dessous :
60 years of transplantation...
European pioneer of heart transplantation, Professor Christian Cabrol revisited this very special kind of surgery in his address to the public. It all began at Stanford, when Norman Shumway and his assistant, tried an experiment to transplant a heart from one dog to another. Miraculously, it survived. But not for long, its body rejected the heart because it didn't recognize it. All the difficulties linked to this operation came to the surface. Between the first successful heart transplant carried out by the South-African surgeon Christian Barnard in 1967 and the discovery of an effective anti-rejection drug, there was a twelve year gap. To have a successful organ transplant, to master the rejection of a foreign body, to improve the quality of life of the patient, all of these were the challenges faced by the practitioners and the patients themselves.
The eminent cardiac surgeon also explained the dilemma faced by the family of the potential donor. The family's reluctance to accept the removal of the organ is understandable particularly if the deceased has not already expressed his position on the subject. A very difficult decision at a sad moment in their lives. Being a donor means saving lives. So don't hesitate to communicate to your relatives your feelings about organ donation .
Professor Cabrol ended the conference with a plea for more organ donors. You can listen to it below:
Download Embed Embed this video on your site