Activités physiques et transplantions: Quand deux mondes se rencontrent...
17.01.2010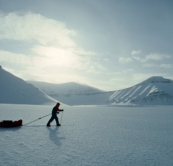 Le symposium « Activités physiques, transplantations et dialyse » s'est tenu à Sainte Foy Tarentaise à la veille du début des jeux mondiaux d'hiver des transplantés. Cette journée visait à encourager les médecins et les professionnels du sport à travailler main dans la main pour une meilleure réhabilitation des transplantés. Le sport, domaine attractif et ludique, permet une prise de conscience et une réappropriation de son corps. Il fait partie d'un processus global de récupération après une greffe, au même titre que les médicaments. Pourtant peu de médecins incluent dans leurs « ordonnances » le ski ou la course et peu de fédérations sportives prévoient des entrainements destinées aux besoins spécifiques des transplantés.
La collaboration entre le monde du sport et celui des transplantés est pour Trans-Forme une évidence et une nécessité. La mise en place de programmes sportifs adaptés aux besoins des transplantés pouvant être prescrits par les médecins serait une véritable avancé pour le patient. Une transplantation réussie passe par la réhabilitation et le sport en est un excellent vecteur.
Ce symposium s'est tenu sous le Haut Patronage de Ministère de la Santé et des Sports, ainsi qu'en partenariat de la Haute Autorité de Santé.
"Physical activity, transplantation and dialysis" symposium
The day before the opening of the Winter world transplants games 2010, a "Physical activity, transplantation and dialysis" symposium took place in Sainte Foy Tarentaise. This event aims to encourage physicians and sport professionals to work hand in hand for rehabilitation of transplant recipients in their daily lives. Sport is an attractive and entertaining activity which allows the recipient to become aware of their bodies and to become more disciplined. It is part of a global process of recovery after a transplant, on the same basis as the drugs. Sadly only a few practitioners include skiing or running or other sports in their advice and few sports federations plan specific training for the needs of transplanted people.
For Trans-Forme, collaboration between Sport and the transplant world is clearly a necessity. Planning sports programs adapted to the needs of transplants then be prescribed by practitioners would be a real progress. A successful transplantation relies on good rehabilitation and sport is an excellent means.
This Symposium was held under the patronage of the Ministry of health and sport and in partnership with the Haute Autorité de Santé.
Les bienfaits du sport pour les patients greffés selon le Professeur Christian Cabrol, chirurgien cardiaque:
Sport benefits transplant patients according to Professor Cabrol, a cardiac surgeon:
Download Embed Embed this video on your site
Le sport et la santé : le point de vue d'Alain Calmat, président de la commission médicale du comité olympique français et ancien ministre des Sports.
Sport and health: Alain Calmat's point of view, president of the medical commission of the French Olympic committee:
Download Embed Embed this video on your site
Les recommandations pour reprendre une activité physique après une greffe par Docteur Jean-Claude Verdier, cardiologue du Sport:
Advices on how to start again sport after a transplant according to Jean-Claude Verdier, Sport cardiologist:
Download Embed Embed this video on your site