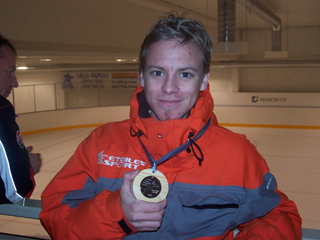 Ever since I can remember, cystic fibrosis has pushed me to struggle and to fight beyond my own strength. I grew up with sport, playing football, climbing, cycling, athletics, and skiing (which is my biggest passion), always encouraged and supported by my family. Sport was a way to conquer and live through all the hardships that come with the illness. I therefore grew up almost normally as a child and teenager but all the same, the illness caught up to me and brought me down. When I was 20 years old, I only had 20% of my breathing capacity and a transplant seemed like my only option. I put on a brave face and continued to struggle, as always, and my catch phrase was "Whatever didn't kill me made me stronger." I felt that way up until June 5, 2005, the day when I was fortunate enough to receive a bi-pulmonary transplant.

This transplant permitted me to live again, enabling me to throw myself back into life and to accomplish the many dreams and goals that I had set myself. I passed my baccalaureate in September (I had been called to the transplant the night before the exams!) and after having passed them, ever motivated, I left to fulfil my biggest dream: to live a winter in the mountains. I found accommodation at the La Clusaz ski resort and just 5 months after my transplant, I was finally in the mountain tops. I then spent the most wonderful 8 months of my life in the mountains where I could ski day and night (almost). In time, I had to go back to a less idyllic life, but one which was enriching all the same, as I threw myself into an active world. I was employed by the bank Caisse D'épargne on the Cote d'Azur , where I still currently work.
I also wanted to share the success of my transplant and I therefore created an association called Blast Energy. Its essential aim is to convey the importance of sport before and after a transplant by means of different activities and participation in sports. With numerous patients suffering from cystic fibrosis and lung transplants, we have participated for 2 years in official competitions (National Summer Games in May 2007, The Race of the Heart in April 2007) and very recently, the Winter World Transplant Games in Finland .
The considerable efforts of each transplant entrant, the spirit during the competitions as well as the determination and the mutual encouragement are truly unique. At the last World Games in Rovaniemi, I took part in 4 major ski disciplines and won the gold for parallel, the silver for slalom and the bronze for the Super G and the Giant. These sporting challenges permit me today to set the standard at an international level, to continue to play sport, to train regularly with the aim of enjoying myself, and to feel and to fully explore my new found capacities after my transplant.
I live a new life and each year I have a new birthday to celebrate.
Adrien Bolot.
---
Adrien Bolot - Parcours d'un jeune greffé pulmonaire atteint de mucoviscidose
Depuis toujours, la mucoviscidose m'a poussé à me battre et aller au-delà de mes forces. Encouragé et soutenu par ma famille, j'ai grandi avec le sport. Une manière de vaincre et surtout de survivre à toutes les épreuves liées à la maladie. Après une enfance et une adolescences presque « normales », la maladie a fini par me rattraper et me faire tomber : à 20 ans, il ne me restait plus que 20% de capacité respiratoire et la greffe comme seule chance... Ma devise était comme toujours de faire front et de lutter. Jusqu'à ce 5 juin 2005, où j'ai eu la chance de recevoir un don d'organe : une transplantation bi-pulmonaire.
Cette greffe m'a permis de revivre, de me relancer dans la vie et accomplir les nombreux rêves et objectifs que je m'étais fixé. J'ai donc passé mon baccalauréat en septembre (j'avais été appelé à la greffe la veille des examens !) et après l'avoir obtenu, encore plus motivé, je suis parti réaliser mon grand rêve : vivre un hiver à la montagne. Seulement cinq mois après ma transplantation, j'étais enfin sur les sommets. J'ai passé les huit les plus beaux mois de ma vie en montagne.
Pour partager la réussite de ma greffe, j'ai décidé de créer une association : « Blast Energy ». Son but est de véhiculer l'idée que le sport est important, avant ou après la greffe. Et cela au travers de différentes actions et participations sportives. Avec de nombreux patients atteints de mucoviscidose et transplantés pulmonaires, nous participons depuis deux ans à des compétitions officielles (Jeux Nationaux et Mondiaux, Course du Cœur, ...).
Les efforts considérables de chaque participant greffé, l'esprit qui règne lors des compétitions, ainsi que le cœur et les échanges, y sont vraiment uniques. Lors des derniers Jeux Mondiaux à Rovaniemi, j'ai participé aux quatre grandes disciplines de ski et remporté dans ma catégorie d'âge, l'or au parallèle, l'argent au slalom et le bronze en super G comme au géant. Ces défis sportifs me permettent aujourd'hui de m'étalonner au niveau mondial, de continuer à faire du sport et m'entraîner régulièrement avec comme objectif de me faire plaisir, de ressentir et d'explorer pleinement les capacités retrouvées après ma transplantation.
Je vis une nouvelle vie et, tous les ans, j'ai un nouvel anniversaire à fêter.
Adrien Bolot